Ceiling Tiles With a High Level Of Hygiene And Cleanability
While it is easy to clean the floor, window, and walls, it is relatively difficult to keep the ceiling as shiny as the day they were installed. As a result, the hygiene level of our ceiling tiles is low.
But how? You may ask. Since nobody touches the ceiling or comes in contact with it in any way, it shouldn't be dirty, right? Well, that's a general opinion.
However, the fact remains that if your ceiling is not properly taken care of, it becomes vulnerable to mold, dust, and mildew, and it starts to sag and loses its shape over time.
For some commercial establishments to operate, they have to meet up with a legal standard of hygiene, and the ceilings are inclusive.
There are different ceiling tiles in the market that have a high hygiene performance; these ceiling tiles make it easier to achieve a cleaner ceiling at all times.
However, to bear the amount of regular cleaning, the ceiling tiles must be durable enough to withstand the cleaning chemicals and cleaning cloths.
USG Middle East CELEBRETTO Paraline Metal baffles are a great option for ceilings that can increase the aesthetics of your home and also have high hygiene properties.
To enjoy a safe space and bacteria-free environment, investing in good ceiling tiles is the best way to achieve that.
Ceiling tiles should not be a playground for bacteria and microorganisms to operate. Also, the surface should not be hard to clean and disinfect. More so, it should be able to maintain its initial appearance and performance after cleaning.
Now, it doesn't matter the setting in which you have a ceiling. It could be a restaurant, your home or a cafe; maintaining the hygiene of the ceiling is essential.
The Ceiling Deserves Specific Attention
Since ceiling tiles are not easily accessible like walls, they get old faster because they are not properly maintained.
For instance, in settings such as restaurants or cafes, there's a high tendency for there's an accumulation of microorganisms on the ceiling. In places where there's usually evaporation, condensation takes place, and the water droplets fall back on the work surfaces.
Painted ceilings may begin to change color and turn into flakes as time goes on. These flakes may not be harmful, but when it falls off, it portrays that business center as a bad one, especially if customers complain of finding flakes in their orders.
Also, sandwich panels are not safe either. Under wet conditions, the paints over the panel start to peel off, and the metal starts to rust, which is dangerous to the health. Another downside to the sandwich panel is its removal. It requires technical skills because you'll have to remove other components like sprinklers, light and ventilation ducts, etc.
Hygienic Ceilings for Hospitality Environments
For better customer service, restaurants or cafes have to maintain high hygiene standards. However, you'd be amazed to find coffee splashed and food stains on the ceiling in a restaurant.
How those things get to the ceiling cannot be duly explained, but that's by the way. For suspended ceilings made of PVC materials or Vinyl-faced tiles, it's easier to get rid of the mess.
A single wipe with the right chemical solutions can get rid of the stains and still maintain its quality. Also, restaurants could incorporate the use of acoustic ceiling tiles; not only are they easily cleanable, but they also contribute to a better dining experience.
Additionally, food preparation areas require more sanitary attention. Due to the continuous heat that the cooking appliances produce, there will be wetness in the atmosphere, and this wetness is the perfect home for bacteria.
When the ceiling accumulates so much wetness, the color of the ceiling starts to change and over time, the ceiling starts to lose shape.
Apart from ceilings that can be easily cleaned, one of the features that ceilings used in the kitchen should have is humidity resistance. A durable ceiling tile plus humidity resistance is the ideal ceiling for the hospitality environment.
Hygienic Ceilings for Leisure Environments
Ceilings used in the gyms should have a high level of hygiene standards too. A gym is a place where people exercise and sweat.
This means that bacteria have an increased presence in the gym, especially after a day of intense workouts. So, during sanitation, the ceiling should not be overlooked.
Other leisure environments like the swimming pool that has high humidity need ceiling tiles that is humidity resistant. These types of ceilings can withstand the water vapor from the pool.
If there's no humidity resistance, the ceiling starts to sag and begin to lose shape and this can be bad for business. The ideal ceiling needed in this type of environment can withstand cleaning without losing its appearance and is highly humidity resistant.
Ceiling Tiles for Shower Rooms
This is not limited to only leisure environments; even in the home, less attention is paid to the ceiling during cleaning. Meanwhile, there are a dozen bacteria on the ceiling which are harmful to our health.
The ceiling material used in the shower room should be given proper consideration. Instead of mineral fibre ceiling tiles, metal ceiling tiles have more humidity resistance, and if it comes with a stainless-steel finish, it has a lesser risk of getting rust.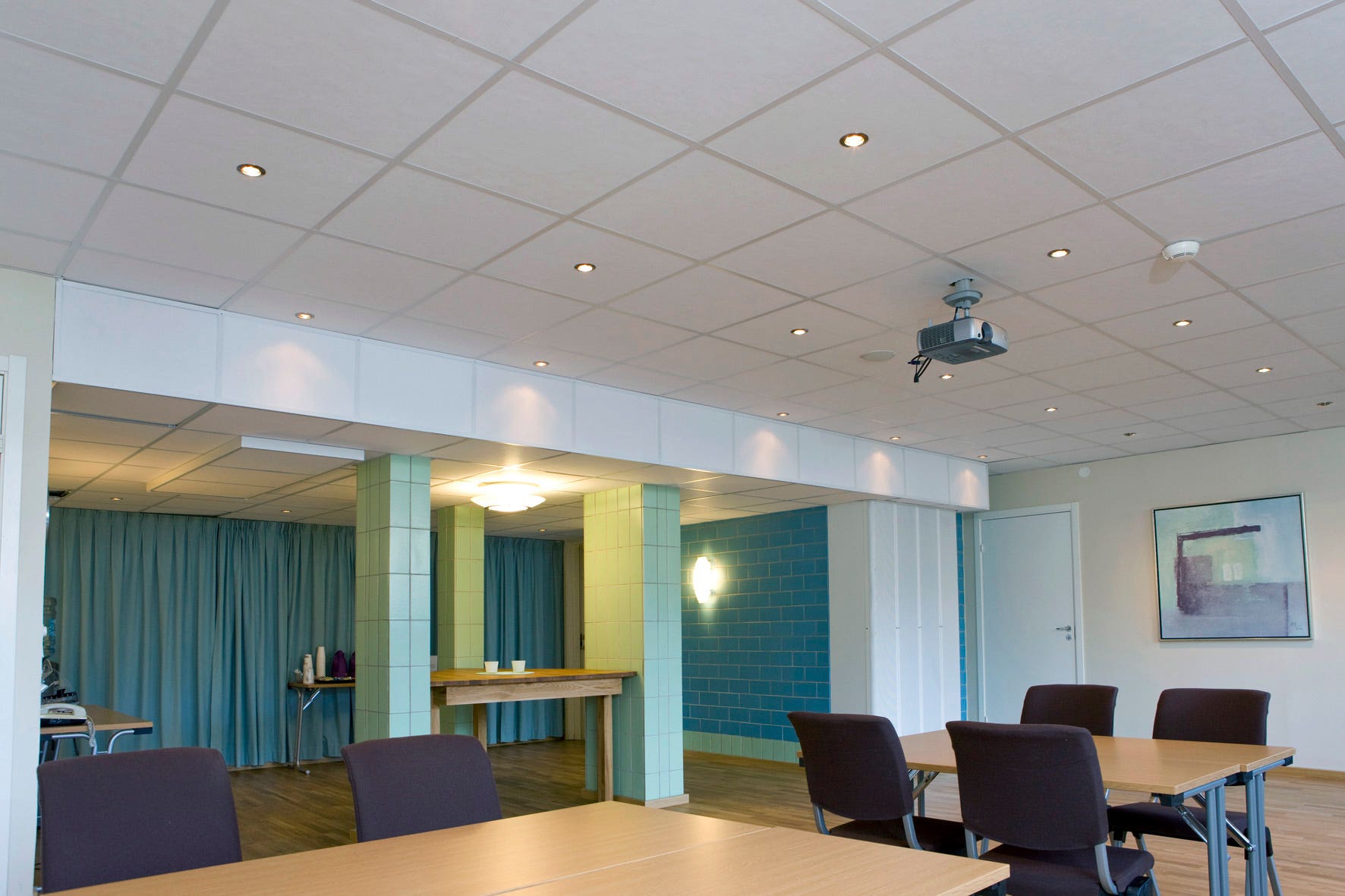 The Hygienic Ceiling for Retail Environments
For commercial environments, a clean ceiling still has major benefits. There may be no coffee splashes or humidity in a store, shop, or classroom, but dirty ceilings are inappropriate. A hygienic ceiling allows for a brighter room and a better atmosphere. When the atmosphere is good, productivity is more productive.
Complex Cleaning
Too much emphasis has been laid on cleaning the ceilings, but it's a rather complex situation. Oftentimes it costs more and requires an extra workforce.
For high buildings, you may need to rent a scaffold or a horse ladder. Even with the right tools, it takes time to clean ceilings. Unless you want to shut down activities for the whole day, you'll need to work on each part of the ceiling one at a time.
Also, the environment determines the cleaning method to employ. For instance, where you would have used a hose to wash the ceiling in a leisure environment, you can't do that in a restaurant.
So, in situations like this, the best approach is to work individually on each part of the ceilings or uninstall the ceiling tiles and wash them thoroughly.
Lastly, more often than not, cleaning solutions for ceilings do not require more than water and the appropriate detergent.