Donn and Quadra Grids
When on a building project, ceilings are one of the simplest ways to curb the appeal of your home. When you install new ceilings, you will have to select either a direct-applied ceiling system or grid suspended systems. If you choose a suspended ceiling, you must install them using a grid ceiling system.
Donn and Quadra Grids are the most common grid ceiling system you can use when handing ceiling tiles to your building. These grids can be hung on old ceilings or joists, providing many benefits of hiding various wires and pipes above the ceiling. Also, the grid ceiling systems offer easy access if they need to be changed.
Donn Grid ceiling system
Donn is a top manufacturer of high-quality grids for suspended ceilings. They developed various standard grid systems which are great for your homes. You can get a standard white exposed grid which is rust-resistant and durable.
The Donn brand has been around for years and was recently bought over by Knauf AMF in 2012. Moreover, they have a Donn DX technology and Quick-ReleaseTM Clip, which stands as a hallmark of their top-quality grid suspension systems. The products from Donn are flexible, affordable and highly compatible with major ceiling classes.
The Different Brand of Donn grid ceiling system
There are many quality brands of the Donn grid system, and they include:
● BRAND DXF FINELINE SUSPENSION SYSTEM
This is one of the best donn grid systems with pre-painted galvanised metal. The material is solid, and it can be easily installed based on ASTM C636 and ASTM E580 specifications. This grid ceiling system should only be fixed by a qualified structural engineer. It is ideal for exposed grids in a high humidity area.
Functions and benefits of this brand
Here are some features and merits of using this grid ceiling system from Donn :
Comes in a 6.36mm size

Has a narrow profile

Slim grid system

Has Mitered intersections which offer a flashy appearance

Comes in custom colours

An integrated Ted Air diffuser is optional

Has a high recycling ability

Great for seismic installations
Applications
Ideal for general use

Fire-rated for interior spaces and general areas
● BRAND DXI IDENTITEE SUSPENSION SYSTEM
This is another Donn grid ceiling system brand made from hot-dipped steel body and baked polyester paint. You can install this Donn brand based on ASTM C636 and USG standards.
This should only be used for interior applications strictly. Some accessories are optional depending on the manufacturer; these are Face sleeve seismic joints and intersection sleeves.
Features and merits
Here are some features and merits of using this brand:
A slim profile grid ceiling system with a 3.175mm reveal

The clean reveal at all inspections

Meets every national code standard which includes seismic

Compatible with all integrated USG login

Various colours available

Available in imperial and metric lengths
Applications
On USG integrated systems

General interior use
● BRAND DX/DXL T24 FIRE-RATED SUSPENSION SYSTEM
This is a top Donn grid ceiling system brand that offers aesthetic benefits for structural engineers. The material is galvanised steel and comes with a 3.155mm reveal.
Benefits and features of this Donn grid
Here are some functions and benefits of using this grid ceiling system:
Core Tees are created to expand when a fire occurs. This is great for the integrity of ceiling structures.

Has fire-rated features and the cap is a G30 hot dip steel

The coating system is in four steps, showing great results in corrosion resistance and paint adhesion.

Highly secure, fast and easy to install

Economical and simple design

Comes with a Patented QUICK-RELEASE clip design

Works well with Square, SLT and other tile edges.

Loud clicking means you are aware when it's connected.

Available in all sizes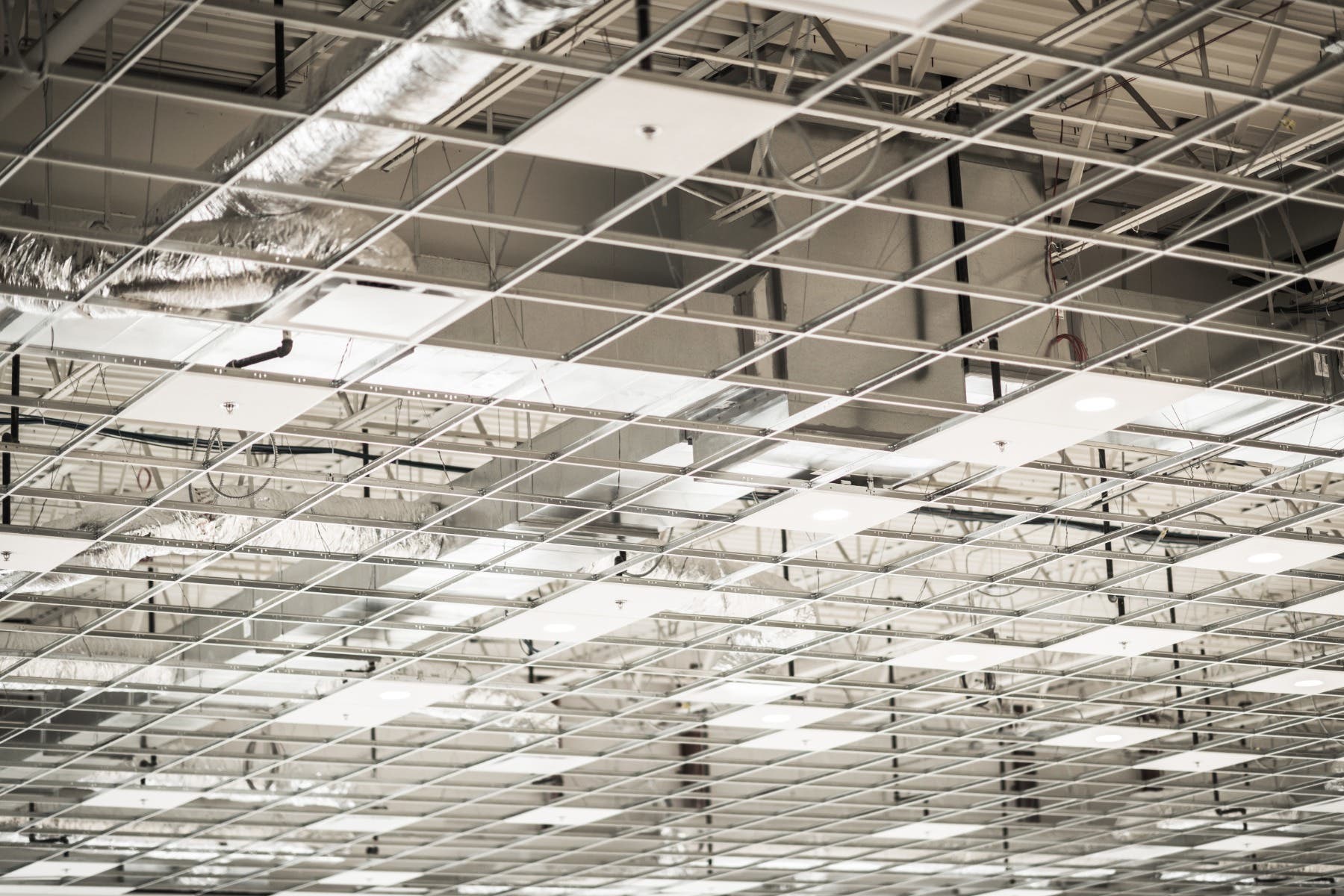 Applications
The grid ceiling system interior is available for general use.
● BRAND DX/DXL T 15 CENTRICITEE-FIRE-RATED SUSPENSION SYSTEM
Another top grid ceiling system from Donn helps engineers in the house. Very reliable and comes with a 3.162 reveal. This brand is ideal for building owners who want safe and comfortable ceiling systems for their projects.
Benefits and benefits of this brand
Here are some of its specifications and merits :
The main tees are made to expand during a fire outbreak.

The fire lance ensures its structural integrity and holds all rules in place.

It has a fire-rated feature and the cap is designed with G30 hot dip steel.

This grid ceiling system comes with a coating which can withstand corrosion and paint adhesion.

Easy to install and simple to access.

The Cross-tees of this brand with their override ends help resist twisting.

Exceeds load compliance features based on ASTM C635.

Available for all sizes
QUADRA GRIDS
The Quadra grid ceiling system is a suspension system made with bread standards in mind. These systems are complete with various handling accessories, which ensures their aesthetic and structural features aren't compromised.
Quadra grids ceiling systems are designed based on the architect's specifications and the project contractor's requirements. These systems are available from a narrator to wide facing, aluminium or steel, and you can choose from an array of choices.
Brands of the Quadra grid ceiling system
Here are good examples of the Quadra brands:
● BRAND QUADRA T24 Safe grid Ceiling system
This Quadra grid product is a top ceiling system found at top firms in the UK, USA, EU and the Middle East. It is a nice grid system which can stand at par with the Donn grid.
Benefits and features of the Quadra T24 brand
Here are some specifications and benefits of this brand :
Durable coating system, which is shown when tested with an industry-standard salt

The body and cap are made with galvanised steel, ensuring they are neat and corrosion-free.

It can be installed quickly by a qualified engineer.

Highly compatible with several ceiling tile edges

Tees are fixed on the web for extra loading bearing

It can be found in all sizes

Performs well in load compliance specifications
● Quadra Crown Ceiling Coffers with Climaplus superior performance
This is also a great grid ceiling system which is ideal for all structural integrity. It also offers an excellent aesthetic value to the property and lasts long.
Benefits and features of this Quadra brand
Here are some features and merits of this Quadra grid ceiling system :
A nicely cut panel which offers acoustical control and management

It doesn't need a field assembly

It comes with a matching wood grain faux finish
Application
Public locations

Financial companies

Conference and social events area
Final Thoughts
Engineers, project managers, and architects seeking an ideal grid ceiling system for their buildings should consider using the Donn and Quadra Grids. They are reliable, affordable, and easy to install. This is a notable Quadra grid product that performs excellently: Quadra Cell