Top 5 Access Panels Ideas and Their Functions
You might be asking yourself when is the right time to get an access panel in your home, and how does it benefit you? Worry no more! We will be reviewing the top 5 access panels ideas and their functions.
What Is an Access Panel?
An access panel is a door/ compartment that provides easy access to any part of your electrical wiring, water, gas, ductwork, telecommunications, and much more.
Access panels are manufactured with an all-around frame secured with screws, unlike the old models with no frame. Access panels can be safely installed in walls or ceilings.
Most access panels come with a lock or cylinder that allows the door to be locked properly. Do note that access panels do not require frequent attention.
Various types of access panels can be categorized based on the material they are made from. For instance, access panels made from aluminum and steel units are particularly used in commercial areas, while vinyl and plastic units are commonly used in homes.
Before installing any access panels, the following areas should be examined. Make sure the location meets the building and safety standards;
Entrances with exit signs for separate buildings.

Openings to areas that lead to corridors or halls.

Areas that lead to elevators and stairwells.

Entryways to potentially hazardous areas such as high voltage areas and boiler rooms.
Top 5 Access Panels Ideas and Their Functions
Check out the top 5 access panels ideas that you can incorporate into your building projects:
1. Fire-Rated Access Panels
These access panels are mostly used in commercial areas and projects, and are certified to make your building LEED-CERTIFIED.
Fire-rated panels come in many different forms, but they all have one thing in common: the ability to withstand high temperatures and the effects of a fire.
This access panel will most likely reduce energy consumption costs, making it a win for developers and consumers. Fire-rated access panels can be used on walls and ceilings.
The major difference is that the one installed on a wall is not insulated, while the other one installed on a ceiling is insulated. It has a thick galvanized steel, mineral wool insulation, and a smoke-proof gasket to function effectively.
The functions of fire-rated access panels are;
It conceals gas lines, electrical wiring, exhaust systems, and anything that might be flammable.

Fire-rated access panels are designed to withstand fire, heat, and smoke.

They are also designed to protect people from sudden fire outbreaks.
2. Drywall Access Panel
This access panel has an aesthetically pleasing way of hiding cables, water valves, and unsightly wires. All these are done while maintaining an invisible appearance.
Working on a plumbing /electrical issue in your home can be a big hassle because you have to cut into the drywall to reach your target point. This takes away your time and energy meant for other jobs.
The drywall access panel helps maintain the seal and allows you to gain access into your work area.
Its Functions;
It gives you easy access to your utility box or crawl spaces.

It acts as a concealed safe system that prevents unwanted and unauthorized tampering.
3. General-Purpose Access Panel
Just like the name implies, it is used just about anywhere. This general-purpose access panel is adjustable, which makes it unique among others. They can be installed both on walls and ceilings.
General-purpose access panels come with certain features like concealed hinges and recessed frames and secure elegant designs where you install them.
Functions Of General Purpose Access Panel;
It provides secure and efficient service access to critical areas in walls and ceilings.

They are used where fire safety and security are not being adhered to.
4. Exterior Access Panel
These access panels are designed for exterior purposes only. Its main purpose is to protect your building properties and components from moisture damage and harsh weather conditions.
One thing to note about this exterior access panel is that even though it is exposed to water and intense heat, it does not rust.
Functions Of Exterior Access Panel;
It provides an extra protective layer for your building.

It also provides easy access to your plumbing, mechanical or electrical properties from outside.
5. Plaster Bead Access Panel
These access panels work effectively with plaster ceilings and walls. Since it is found to be durable as drywall, it is the ideal access panel to be used.
It provides the ability to insulate, store, and organize your equipment.
If you want to reduce extra work time and cost, use this plaster bead access panel for your plaster-based jobs.
Functions Of Plaster Bead Access Panel;
It conceals your HVAC systems and also your plumbing and electrical properties.

It preserves the aesthetic appearance of any interior plaster ceiling and walls.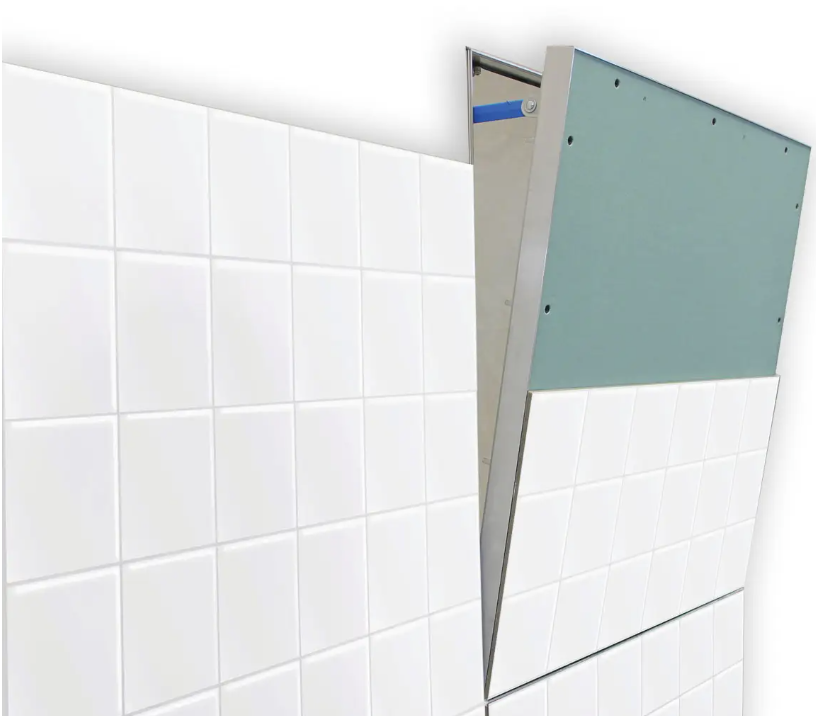 Advantages of Using Access panels
The upsides to using access panels include;
It halts the advancing fire outbreaks throughout your building.

It prevents the spread of poisonous and toxic gases.

It safeguards your family and all your valuable assets.

Easy and safe access to mechanical and electrical systems.

Access panels conceal essential utility facilities such as wires, cables, gas pipes, and HVAC components.

Easy maintenance of pipes, wires, ductwork, and other equipment.

It serves as a wall layer to add a specific spot to your wall or ceiling.
Side Effects Of Using Access Panels
In cases where the access panel is on fire, harmful fumes and gases are released that might be dangerous to human health.

Most access panels available in the market are made from cheap plastic that will not last long.
Safety Tips
Most access panels are not resistant to extreme temperatures and electrical hazards, so always assume that all the electrical parts are live. Do well to act accordingly.

Never use solvent and water-based solutions when cleaning electrical parts.

Use extreme caution with flammable materials.
On A Final Note;
Keeping your building and apartment safe from fire, toxic smoke, and gases should be your top priority. Take your time to learn about access panels, their advantages, safety precautions, and the ideal one for your home /property.
In cases where you need help with the installation, call an expert you can trust to help you install it. USG Middle East Shaftwall Access Panel Heavy Duty is the best access panel option.