USG ME Celebretto Specialty Ceiling: Creating A Working Environment That Fosters Positive Experience
The working environment plays a major role in the minds of the employees. Having a fascinating ceiling to look at when stressed opens up the mind for positivity thereby energizing an individual to be more efficient. USG ME offers different specialty ceiling that meet the artistic needs of any building's interiors. Our innovative ceiling systems offer you a well-sculpted feel and unique elegance.
USG ME Celebretto Specialty Ceiling
This USG ME brand offers a broad range of ceiling designs that can be applied in residential and commercial areas. USG ME Celebretto specialty ceiling has numerous unique designs that come with high-performance materials, and excellent soundproof systems to select from.
USG ME celebretto ceilings are the first visible properties you notice once you enter any building, this is because of their light reflectance, their durability to aesthetics, and sound absorption.
All USG ME celebretto ceilings are designed to deliver easy installation, creative designs, and excellent performance. Our target is to bring life to any working environment you step into. USG ME ensures that durable and sustainable products are used.
Our celebretto ceilings have been rated a 10 for mold prevention application as per the ASTM D3273 scale.
We will be taking a tour around some celebretto specialty ceiling that will help foster positivity in a working environment.
USG ME Celebretto Hook-On
This Celebretto specialty ceiling is a protected suspension ceiling system that has different arrangements that can match any modern design. All of its panels can be dismounted without using any special tool.
Its configurable layouts and panel sizes allow the designer to be more creative with their designs. Having an easy pass to the plenum for simple keep up, makes it advisable to use in offices, commercial spaces, open halls, Airports and lounges.
Its infill options to choose from are; plain, acoustical fleece, acoustical fleece mineral fibre, and acoustic fleece soft fibre. Note that its thickness depends on its size and project requirements.
Celebretto Hook-on panel specification 
Stainless steel: VI

Aluminium: Type VIII

Galvanized Steel: Type V

Pattern: A, C, G

Optional Edge: 3mm black gasket

Thickness (wooden finish): 0.6mm

Powder coat finish: 0.6-1.4mm

Panel height: 40mm-200mm

Panel length: 2400mm

Panel width: 200mm-1200mm

LRC(Light reflection coefficient): maximum 0.82.

Its surface burning feature is a Class A.
Celebretto Hook-on Components
Metal hook on panel, bottom view

Metal hook on panel, top view

Hanging system

J-Profile: H-51mm, L-2400mm

Primary channel galvanized steel: H-40mm, L-300mm.

Perimeter wall angles selections

J profile hanging bracket

System section.
All the components of the celebretto hook-on ceiling are safe because it contains no asbestos or carcinogen that are dangerous to health.
Its panels have good acoustical performance that lessens sound and distraction in any working environment.
USG ME Island Hook-On
This is a protected specialty ceiling that comes with special design methods. Its panel and layout sizes can be configured which allows the developer to design freely.
It has an easy hook-on pattern that permits 100% access. It is installed in line with the New Zealand seismic standard, which means your employees are guaranteed safety in cases of natural disasters.
Its features and merits ensure an excellent working environment that fosters a positive experience amongst your workers.
It has an antimicrobial powder coating that is elective.

The celebretto island hook-on has an optional gloss finish.

It comes in regular and custom-made sizes and colours.

Its perforation pattern fits your interior designs and also your project layout.

The celebretto island hook-on is available with plexus expanded mesh panels, and embossed panels that cannot be impaled.

It can be used in offices, commercial areas, libraries, convention halls, etc.
USG ME Celebretto Island Hook- on Components and Specification
Components: Hanging systems bolt pan head, island hook-on panel, primary channel, middle panel, and j-profile galvanized steel.
Specification
Aluminium: Type VII

Galvanized steel: Type V

Stainless Steel: Type VI

Thickness: it has a wooden finish of 0.6mm, and a powder coat finish of 0.6mm-1.4mm

Panel width: 200mm-600mm

Panel Height: 40mm-200mm

Panel Length: 2400mm

Light reflectance coefficient: 0.82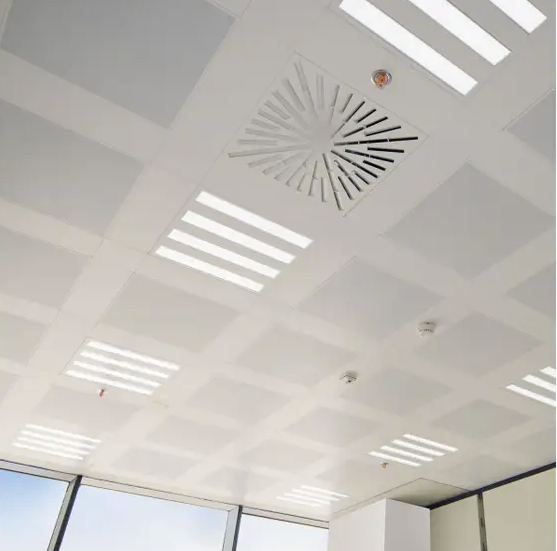 USG ME Celebretto Intersecto
This is an excellent modular design that guarantees easy service incorporation and a straight track channel that can be easily designed with enclosures.
USG ME Celebretto Intersecto Features
It has a surface burning feature of Class A.

It is certified to have reinforced CAC, high NRC, and high LR.

All of its panels can be dismounted without any special hand or mechanized tools, which allows easy access to the plenum.

Its applications are; office areas, libraries, commercial spaces, etc.

Its high lift reflectance improves the working environment which in turn reduces electrical output, reduces cooling costs, and low maintenance costs.

Its infill options come in acoustical fleece, plain, acoustical fleece and mineral fibre, acoustical fleece and soft fibre.

Its thickness lies solely on project requirements and panel sizes.
The celebretto intersecto can be absorbed, evaluated, or disseminated when hit by a sound wave. Sounds from elevators, pumps, or ventilation systems are silenced when you use the USG ME celebretto intersecto. 
This ceiling helps develops a working environment where noise is reduced, and also a positive area that ensures your staff work efficiently without any distraction.
USG ME Celebretto Components
Crossing panel box

Lay-in panel

Hanging system

Suspension bracket
USG ME Celebretto Torsion Spring
It features a closed ceiling system that has a different arrangement and can fit into any interior design. Its panels can be dismounted easily which makes maintenance so simple.
Components: Torsion spring channel, Hanging system, Torsion spring panel option design, Hanging profile, Torsion spring, Torsion spring bracket.
Specifications
Rectangular panel width: 200mm - 600mm

Rectangular panel length: 2400mm

Triangular panel: 1200mm

Panel height: 40mm - 70mm

LR(Light reflectance coefficient): 0.82

Thickness(powder coat finish): 0.6mm - 1.4mm, Wooden finish; 0.6mm

Material classification

Galvanized steel -Type V

Stainless steel - Type VI

Pattern: A, C, G

Aluminium: Type VII
On A Final Note;
Astonishing and stunning ceilings start from USG ME. Our celebretto specialty ceiling is a must-have for any working environment because it helps trigger a working environment that will in turn foster a positive experience for everyone.
Ensure you find the right celebretto specialty designs that will serve you for a long duration saving you from expensive maintenance costs and efforts. All our materials are tolerable and they are used to generate a durable, safe, and secured work environment.