USG ME Celebretto Specialty Ceiling: High-Performance & Enhanced Design Freedom
Working with inferior materials can devalue your work. Building contractors, architects, and designers are seeking better, faster, less costly, and safer ways to build. This gives them design freedom.
USG ME's mission is to convey innovative designs that will encourage you to build better. USG ME specialty ceiling offers adequate acoustic performance and high-performance panels.
USG ME Celebretto Specialty Ceiling
USG ME Celebretto specialty ceiling delivers a unique extension of integrated ceiling systems, acoustic panels, and suspension systems.
High-performance ceilings that enhance design freedom and deliver an excellent acoustic performance.
USG ME Celebretto line targets to bring to life any building while deducting the construction industry's effect on our environment.
With our exquisite panel assembly that enhances design freedom, our panel also offer mould & moisture resistance, visible sag resistance, amazing aesthetics and a good lasting impression.
Our panels also have a high light-reflective finish that reduces the necessity for energy use and light fixtures and also helps maximize LEED recycled content assistance.
Celebretto Specialty Ceiling Types
Type III: Mineral base with painted finish.

Type IV: Mineral base with membrane-faced overlay.

Type X: Mineral base with plastic or Aluminum membrane.

Type XII: Glass fibre base with membrane faced.

Type XIII: Steel strip with glass fibre base infill.
Celebretto Ceiling Patterns: (C, D, E, F, G, I, K,)
C: Perforated

D: Fissured

E: Lightly Textured

F: Heavily textured

G: Smooth

I: Embossed

K: Surface scored
USG ME Celebretto Clip-In Metal Ceiling
This is a protected ceiling design that consists of optional wooden patterns & ideal perforation styles. It has a high sound attenuation and absorption level. Its finish is washable, durable, active, and easy to clean.
Its applications are; Malls, airports, health care, residential areas, and office and commercial buildings.
Specifications
SBC: Class A
Panel Sizes
300×300mm

300×1200mm

300×1500mm

300×600mm

600×1200mm

1200×1200mm
Material Classification
Aluminium: TypeVII

Stainless steel: Type VI

Pattern: A, C, G

Galvanized Steel: Type V
LRC: 0.82
Colours
Infill Options
Acoustical fleece

Acoustical fleece and glass wool

Plain

Acoustical fleece and mineral fibre
Thickness: 0.6-1.4mm
Height: 10mm, 20mm
Edge Detail Trim: Concealed (bevelled)
Scrubbability/washability as per ASTM D4828 & D2486: Exceeds 1000 wash/brush sessions without any surface break.
USG ME Celebretto Quadra Cell
This Quadra cell is an economic specialty ceiling that is recommended for commercial and residential designs. This ceiling can be quickly installed and has easy cleaning surfaces that guarantee design freedom.
It is available in two(2) designs T10 trackless & T15 lay-in ceiling. The T15 lay-In ceiling is easily accessible and comes in various modules and sizes.
USG ME T15 Lay-In And T10 Trackless System Specification
Material Classification
Pattern: G

Aluminium: Type VII

Panel sizes: 600×600mm
Thickness
Pre-painted Aluminium: 0.4mm

Powder coat finish: 0.4mm

Wooden finish: 0.6mm
Module sizes: 50×50mm, 75×75mm, 100×100mm
Module Height: 30mm, 50mm, 60mm
Exposed module width: 10mm (trackless), 15mm for T15 lay-in
SBC: Class A
Sound absorption: 0.95
T15 Lay-In System Components
Suspension Accessories

T15 male profile

T15 female profile

T15 lay-in perimeter profile
Suspension system
Main Tee: 3600mm

Cross Tee: 1200mm

Cross Tee: 600mm

Perimeter wall angle
T10 Trackless System Components
Main carrier splice

Rod hanger

Butterfly clips(suspension accessories)

Two male profile

Two female profile

Cross carrier: 1200mm

Main carrier: 1800mm

Cross carrier: 600mm

Shadow-line wall angle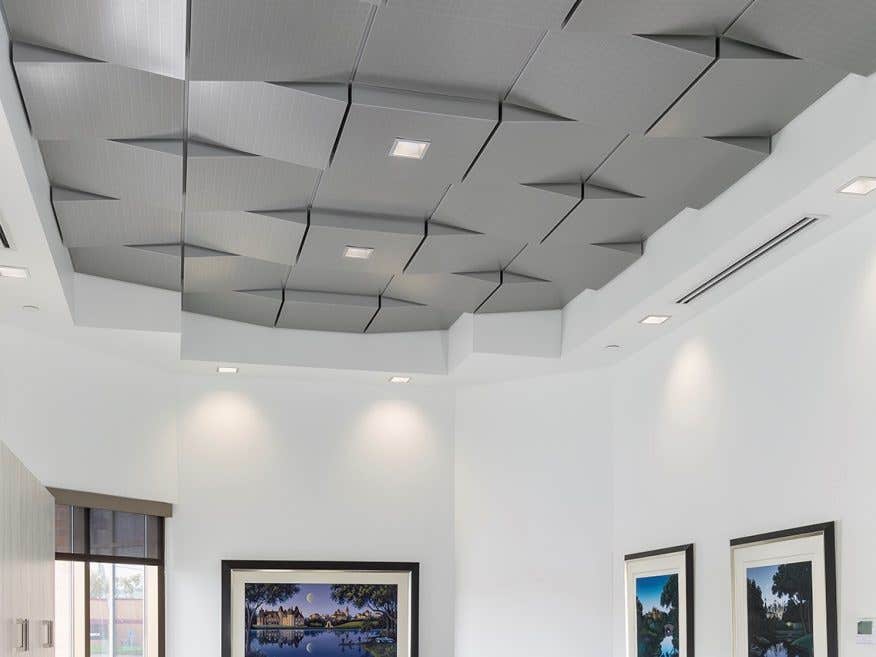 USG ME Celebretto Geometrix
This specialty ceiling has a panel depth of 70mm-200mm, which enhances design freedom. These panels are available in perforated or plain. It also has customized colours that allow versatile designs.
Its applications are; wall-to-wall ceilings, interior designs, commercial applications, or any new construction and renovation.
Components
Geometrix panel

Suspension system

Hanging system

Wall angle
Specification
Pattern: A, C, G
Stainless steel: Type VI
Galvanised steel: Type V
Aluminium: Type VII
Thickness
Powder coat finish: 0.6mm-1.4mm

Wooden coat finish: 0.6mm
Panel size: 600×600mm
Panel depth:7mm-200mm
Edge: Lay-In square edge
LRC: up to 0.82
SBC: Class A
Infill Option
Acoustical fleece and soft fibre

Acoustical fleece

Plain

Acoustical fleece and mineral fibre
USG ME Celebretto Island Hook-On
Our island hook-on has different layouts and panels that can be configured to enhance design freedom.
The New Zealand seismic standard regulation approves of our ceilings and assures your project goes on successfully.
Features
It has an optional gloss finish.

Customized colours and sizes are available when you place a request.

It consists of an anti-bacterial coating.

Our perforation patterns will suit all your interior designs and also enhance future designs.

It comes with expanded mesh panels and embossed panels that cannot be jabbed.

Its applications are; convention halls, airports, malls, commercial areas and libraries.
Components
Island hook-on panel

Hanging systems

Boltpan head

Middle panel

J-profile galvanised steel

Primary channel
Specifications
Material classification
Galvanised steel: Type V

Stainless steel: Type VI

Aluminium: Type VII
Panel height: 40mm-200mm
Panel length: 2400mm
Panel width: 200mm-600mm
Light reflectance coefficient: 0.82
Thickness
Wooden finish: 0.6mm

Powder coat finish: 0.6mm-1.4mm
USG ME Celebretto Intersecto
It is a high-performance ceiling that can be absorbed, disseminated, or evaluated when struck by a sound wave. It has a quality sound absorption rate that guarantees lesser noise from pumps, elevators or ventilation.
Features
All its panels can be dismounted without the use of any hand or mechanical tool.

Its outstanding light reflectance enhances design freedom

It allows easy access to the plenum

This specialty ceiling reduces cooling costs and electrical output

Maintenance of this speciality ceiling is cheap.
Components
Lay-In panels

Crossing box and panels

Suspension bracket

Hanging systems
Infill Options
Plain

Acoustical fleece

Acoustical fleece and mineral fibre

Acoustical fleece and soft fibre
USG ME Halycon Black
This is an exceptional ceiling that has a good absorption level with NRC values. It is available in tightly sealed edges with aluminum material to help increase sound attenuation. Our halcyon black ceiling can be cleaned easily with a brush
Material classification
Light reflectance coefficient(LR): 0.88
Noise reduction coefficient: 0.95
Flame spread: 25
Smoke development: 50
Weight: 1.7kg/m for 15mm
Type: XII
Pattern: E, G
Edge detail trim: Square
Reveal: SL, FL
Size: 19mm, 25mm, 38mm
Thickness:
600×600

600×1200

600×1500

600×1800

300×1200

300×1500

300× 1800
Relevant LEED Credit
EA: credit 1

MR: credit 4

MR: credit 5

MR: credit 6

IEQ: credit 3

IEQ: credit 3.2

IEQ: credit 4.6

IEQ: credit 8.1

IEQ: credit 9
Washable and scrubbable finish: exceeds 1000 scrub and wash cycles.
On A Final Note;
With our Celebretto specialty ceiling, you can redirect your dreams into a reality. Architects and building contractors rely on our products. Endeavour to make sure all your building projects have a touch of excellence.
Give us a call or visit our website to know better. Feel free to submerge yourself into an environment of unparalleled design.