Solutions For Sports Facilities USG ME
Building a sports facility can be a bit challenging. This is because you must think of the best products, materials, and services. Worry less, our USG ME solution for sports facilities will enable you to have a grand tower that will be safe for everyone.
These solutions provide life safety to people and maintain building function before, during and after any natural occurrence.
Failure to have these components present in any natural occurrence (earthquake, hurricane) has the potential to block egress, cause harm and disrupt the building's function.
The primary objective of the sports facilities solutions is to provide life safety, prevent any functional loss and minimise property loss.
Interior Finishes For Sport Facilities
USG ME Tuff- Silk Interior Wall Fine Putty
It includes excellent bond, resistance to flaking and chipping, fine white finish when dry, and superior adhesion to plastered surfaces.

It does not require sanding and therefore provides a smooth surface finish.

It is a premium-grade filler base that is used before decorating or painting.

It is an excellent choice for use in skim coating.

It has a superb quality thin underlayment solution used to repair ceilings and walls in any sports facility.
USG ME Sheetrock Brand Paper Joint Tape
It is a special fibre tape designed with any USG ME joint compounds to reinforce joints and corners in all gypsum drywall interiors.

It provides excellent wet strength and wrinkling and resists stretching and other distortions.

It is easy to apply because of the positive centre creasing & uniform winding that promotes trouble-free and accurate applications to high angles in any sports facility.
USG ME Sheetrock Fibreglass Drywall Tape
Our sheetrock fibreglass drywall tape is made with a unique cross-fibreglass construction that provides greater drywall joint strength for your facility.

It is recommended for use in any sports facility because of its ability to repair small holes and cracks caused by any sports equipment.

Our self-adhesive tape goes on quickly to eliminate bedding coats and also provides smooth finished joints with just double coats.
USG ME Beadex Paper Faced Metal Drywall Bead
It installs faster than a bare metal head.

It offers high-quality straight lines for interior architectural features in any sports facility.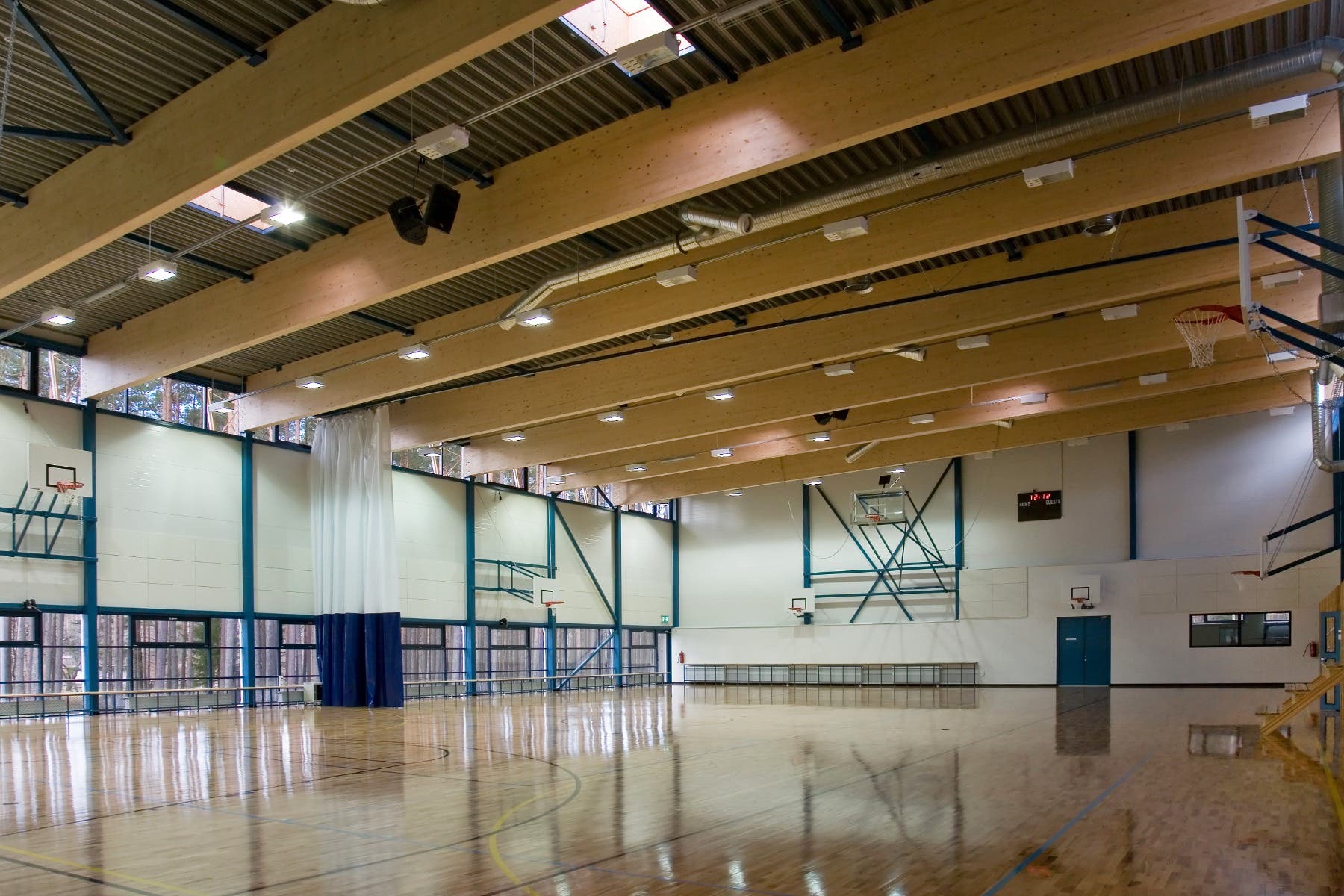 USG ME Ceilings For Sport Facilities
USG ME is the regional leader in manufacturing ceiling suspension systems. We offer an extensive line of integrated ceiling systems and speciality ceiling systems.
Our USG ME ceiling products are built to provide easy installation, flexible designs, and outstanding performance. Our ceiling system meets a certain fire rating requirement.
This requirement determines the ability of our ceiling to provide adequate thermal insulation to combustible materials in any sports facility, thus avoiding any danger of materials being ignited.
Our ceiling products include;
USG ME Celebretto Quadra Cell
It is available in two main designs: T15 Lay-in ceiling and T10 Trackless ceiling systems.

It consists of an economical grade ceiling solution that meets all commercial design concepts.

Quick installation and easy integration with MEP services.

It is available in pyramid and U shape designs.

It comes in a wide variety of modules and sizes.
USG ME Celebretto Torsion Spring
It features a closed suspension ceiling system with various configurations that can fit any contemporary interior design.

It is available in two standard designs; rectangular and triangular.

It is applicable in commercial spaces, airports, train stations, etc.

All its panels are easily demountable, allowing easy access to the plenum for easy maintenance.
USG ME Celebretto Strip Ceiling
Various mounting arrangements are available to accommodate any installation conditions and requirements; closed gap, concealed and curved edge with the use of filler strip.

It has customisable and standard perforations that are available to create numerous visual patterns and also help with the acoustic performance of your sports facility.

Our USG ME celebretto strip ceiling has new strip panels that offer beautiful acoustics and aesthetics.
USG ME Grids And Suspension Solutions For Sport Facility
USG ME Donn Brand Dx/Dxl T15 Centricitee Fire Rated Suspension System
It features a host and cap made of G30 hot-dip galvanised steel, with repainted 15mm width capping. This is to ensure there is no rust and the lid remains clean.

Its audible click makes you know when the tees are connected.

It is fast, safe, easy to install, and easily accessible.

It is advisable to use in any sports facility because of its fire-rated interiors.
USG ME Donn Brand Dx/Dxh 33 T24 Suspension System
It had maximum economy and design simplicity.

It has a four-step coating process that outperforms paint adhesion and corrosion resistance.

It is fast, safe, simple to install, and easily accessible.
USG ME Brand Quadra T24 Safe Ceiling Carrier
It has an ASTM A653 with pre-painted 24mm width capping to ensure the cap remains clean and rust-free.

It consists of a four-step coating process that outperforms paint adhesion and corrosion resistance, as proven by industry-standard salt.

USG ME Brand QUADRA T24 Safe Ceiling Carrier features a body and cap made of G30 hot-dip galvanised steel as per EN 10346.

It is safe, fast and, simple to install & easily accessible.

It has cross-tees with override ends that resist twisting, giving a professionally finished look with no exposed steel edges.

It exceeds load compliance specifications as per ASTM C 635.

It is available in metric and imperial sizes.
Reverberation Time
It consists of the length of time sound reverberates within a sports facility and how long acoustic energy remains in it. Sound absorption is directly related to reverberation time.
It is calculated using a formula called the sabine formula. In USG ME, the reverberation time is wholly dependent on the shape and size of the space in your sports facility.
Sound transmission class and weighted sound reduction index are widely used in USG ME to measure the sound insulation abilities of sports facilities' floors, windows, walls and doors.
In a nutshell, the more sound absorption in the sports facility, the lower the reverberation time.
On Final Note;
Our wall systems can take up to 4hrs, 3hrs, 2hrs, & 1hr. This is based on the UL assemblies. Our gypsum boards are used in places where non-combustible materials are required.
USG Me ceiling panels do not contain mutagens, carcinogens, asbestos, or any other toxic substances. Our ceiling panels and products are classified and certified to have a low impact on indoor air quality.
Visit our website now to see our professionally designed products and place your order.