SMART INNOVATION FIRST
With more than 1300 patents on industry-leading products, throughout our history, USG Middle East has built a legacy of innovation. But what drives us to strive to deliver groundbreaking innovations in building materials solutions? Providing our customers and partners with the feeling that it's the first time a building manufacturer has had their back.
The first Plasterboard
The first mineral fiber cast acoustical ceiling tile
The first fire-resistant plasterboard
The first plasterboard with sag-defying strength and more…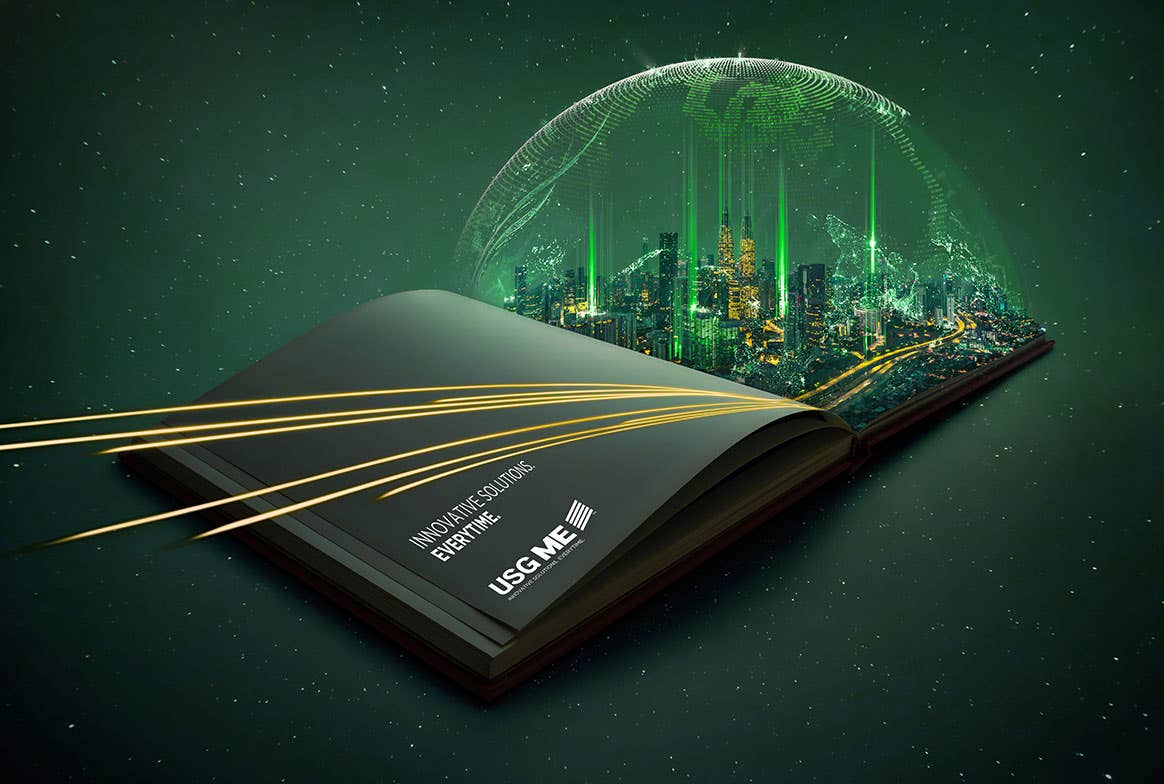 SMART INNOVATION FIRST
USG Middle East (USGME) is a Joint Venture between USG (a Knauf Subsidiary) and Juman Industrial Investment Company-Saudi investor in the Building Materials segment (juman.sa). As a leading manufacturer of Ceiling, Drywall Partitions, and Finishes, we take pride in supplying our high-quality products to more than 45 countries worldwide. With four regional manufacturing plants and an extensive network of sales and technical offices and distributors, we ensure efficient delivery and exceptional customer service.
Our versatile product range is trusted and widely used in various settings, including offices, healthcare facilities, educational spaces, hotels & resorts, theaters & cinemas, malls & residential and other spaces. Notably, our products of Ceiling, Drywall Partitions, and Finishes have found their place in numerous iconic projects across the globe.
At our core, we are driven by a clear mission—to deliver innovation that empowers you to work smarter, achieve more, and construct better. We recognize the evolving needs of architects and construction companies, who seek safer, faster, and cost-effective building solutions. Moreover, building owners require efficient, sustainable buildings with reduced operating costs. In response to these demands and the growing urgency of sustainable construction in addressing global environmental challenges, we continuously develop innovative wall and ceiling products and systems.
45+
Countries
Our products are supplied to more than 45 countries
5+
Regions
5 regional manufacturing facilities
1300+
patents
We provide innovation that helps you work smarter, do more, and build better
5+
Products categories
Ceilings, Plasterboards, Substrates, Metal Framing, and Interior finishes
OUR VALUES
Our values are fundamental in everything we do.
Safety
Safety is our priority. This means zero harm while doing business with us or for us. It's the foundation of what we do and inspires the discipline to be focused and safe in everything we do without taking any shortcuts.
Integrity
Building isn't just about working with dependable materials—it's about working with trustworthy people, too. At USG Middle East, our word is as solid as our products. Authenticity, honesty, and respect are the bedrock of how we do business.
Excellence
We are committed to our pursuit of the highest standards of quality, efficiency, and service. USG Middle East is determined to be the best at what we do. So, customers can get the results they need when they need them.
Collaboration
Construction involves many stakeholders, and collaboration is critical. At USG Middle East, we share best practices with our partners to find new ways to improve performance for our customers. Today. Tomorrow. And well into the future.
Innovation
USG Middle East is built from an extensive history of innovation that includes more than 1,300 patents for industry-leading products. This culture of creativity and ingenuity drives us to strive for new and better ways to serve our customers.
USG ME THROUGHOUT THE YEARS
Our mission is to deliver innovation that helps you work smarter, do more, and build better. Architects and construction companies need safer, faster, and less costly ways to build. Owners need buildings with lower operating costs. There is a rapidly growing need for sustainable construction to address global environmental challenges. That is why throughout USGME's combined history, we have continually developed innovative wall and ceiling products and systems for our customers.
1985
ESTABLISHED
USG Middle East was established in the year 1985
1992
USG FOUNDED
The cooperation between USG ME and USG Manufacturing Worldwide
1996
GRID MANUFACTURING
First production of the DONN® Brand world premium ceiling's suspension system
1998
INTERIOR FINISHES MANUFACTURING
2004
LAMINATED MF MANUFACTURING
First laminated Mineral Fiber tile
2006
MINERAL FIBER LINE UPGRADE
Investing to cope with the increasing demand on the Mineral Fiber ceiling tile
2009
METAL FRAMING
Start the Metal Framing production lines for Ceiling systems and drywall assemblies
2011
TUFF-HIDE MANUFACTURING
2013
SOFT-FIBER LINE UPGRADE
2014
TURKEY PLANT
Inauguration of Turkey plant in Izmir for the Interior Finishes production
2015
USG BORAL MIDDLE EAST
Integration between USG ME and Boral and forming USG Boral ME
2016
METAL CEILING NEW LINE
Metal Ceiling production
2017
NEW JOINT COMPOUND LINE
Adding new Joint Compound production line
2018
QATAR OPERATION
Opening of Qatar operation to serve the Qatari local demand on the Metal Framing
2019
SPECIALTY CEILINGS
First square meter of Specialty Ceiling
2020
GYPSUM TILE PERFORATED PRODUCTION
Introducing the perforated gypsum ceiling systems
2021
GYPSUM BOARD PERFORATED COMPOUND GYPSUM POWDER NEW GRID LINES
Innovation never ends with USG ME. Adding new products portfolio to the standard rage
USG Middle East innovation inspired by you
INNOVATION AND SUPPORT YOU CAN TRUST
USG Middle East's ever-growing portfolio of groundbreaking products and end-to-end solutions is backed by unparalleled quality service. With an extensive distribution and sales network operating for more than
25 years across the MENA Region, our dedicated teams provide local expertise and high levels of support in finding the right solutions for your needs. USG Middle East's main product categories are:
With over 50 years of experience, we are a premier acoustic panel and specialty ceilings innovator that also enhances overall aesthetics. Our portfolio includes acoustical, gypsum tile, metal, and specialty ceilings as well as both standard and seismically rated suspension systems.
Used to make interior walls and ceilings, our plasterboards are the result of over 100 years of scientific experimentation and innovation success. Cleaner, faster, and easily handled by fewer workers, we have installed more than 725 million square meters of plasterboards worldwide.
Compared to traditional wet wall solutions, our substrates are lightweight (thereby reducing installation costs and speeding up construction) and versatile - making them ideal for unique building designs as they are able to be curved and applied to different finishes including paint, tile, stone, and texture.
Our range of metal components and profiles allows the construction of drywall and ceilings to be done faster, more accurately, and cleaner than conventional methods. Also, this innovative framing can be engineered to suit a job site's requirements while achieving global construction standards.
Used for jointing, bonding, skimming, and creating textured finishes for building interiors. We boast a broad range of products for compounds, along with our extensive capability to formulate solutions according to your needs.
INNOVATION CENTERS OF EXCELLENCE
Behind every build is a place dedicated to innovation staffed by leading experts in the fields of material science, engineering (chemical, mechanical and civil), chemistry (physical, inorganic and analytical), and architecture.
It's their expertise and commitment to the most stringent manufacturing processes at our Research and Development Centre as well as Products and Systems Testing Center in Libertyville USA, Thailand and Australia that enables us to customize our products and solutions according to your market needs and regulations, whilst setting the standard for industry innovation.