USG ME Capabilities and Capacities
With approximately 3,500 employees, USG ME is a leading manufacturer and supplier of mineral fiber acoustical ceiling systems, specialty ceiling systems, gypsum-based wall and ceiling lining systems, substrates, metal framing, metal Ceiling, joint compounds, high-performance panels and accessories throughout Middle East, Asia, and Australia.
Through an ever-growing portfolio of groundbreaking products backed by unparalleled service at USG ME, we empower our customers to build their business – much the same way great cities and communities are built. And we've done so through investing in purposeful innovation, expanding into different markets and constantly searching for ways to increase performance and productivity.
Read on to discover information about our Architectural Finishes & Products Integrity, Partial Delivery, Cost Vs. Quality, Warranty and Installation Supervision, One Stop Shop, Approvals, Local Building Codes, Knowledge and Compliance, On-site Training, and case studies showing what can be achieved with our products.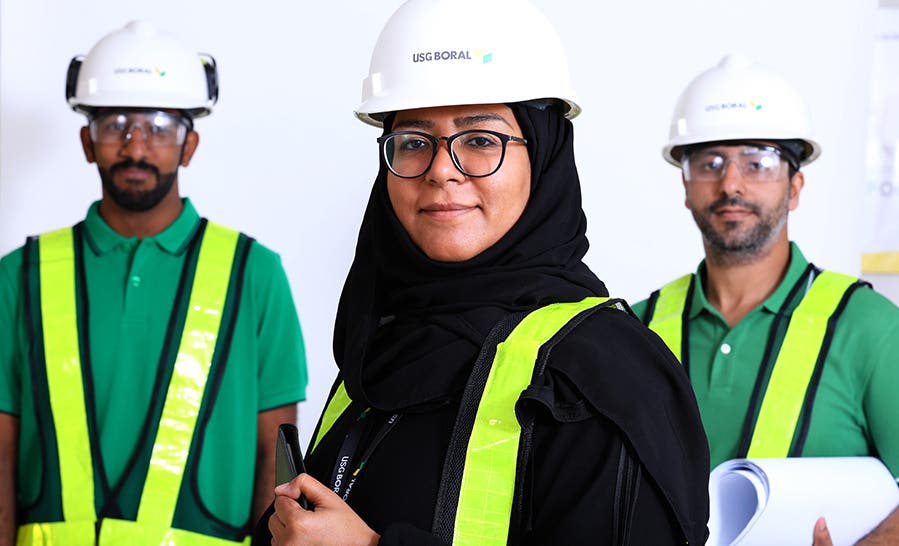 USG ME Architectural Finishes & Products Integrity
When it comes to Architectural Finishes, we have you covered with our products' Versatility, Wide Range of Styles and Finishes, Choice of Materials, Sustainability, Durability, Ease of Installation and more.
When it comes to building, it's more than just working with products that you can trust. It's working with people whom you can trust, too. That's why when you work with USG ME Middle East, you'll soon realize our word is as rock-solid as our products. Being open, honest, respectful and authentic in all our dealings isn't just good business. It's a cornerstone of how we do business.nd constantly searching for ways to increase performance and productivity.
Our Material Availability
USG ME Middle East ensures the availability of raw materials from various excellent sources along with alternate mechanisms readily available in order to maintain the material availability all the time to serve our customers.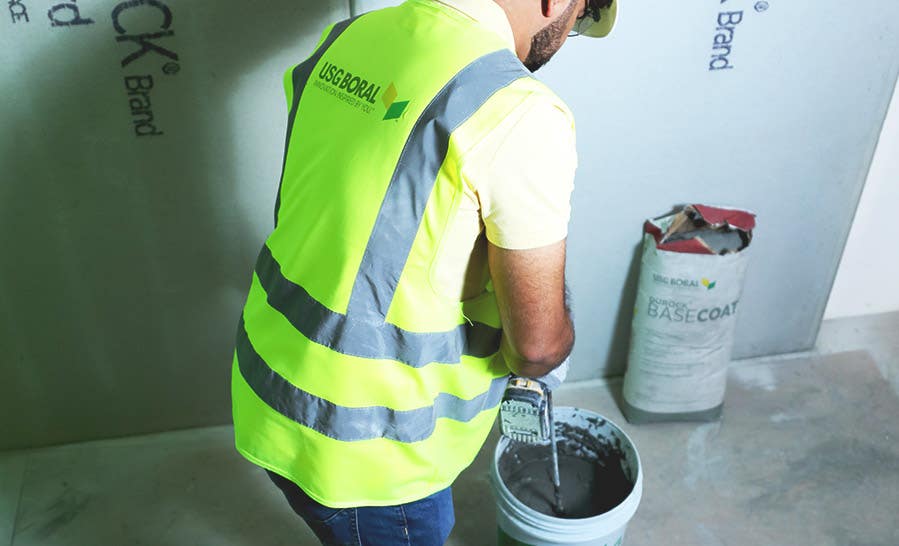 Partial shipment capabilities are important because they help create a better customer experience. We would have to turn the customer away if we couldn't fulfill the entire order at once. This is a loss of mutual interests.
That's why USG ME in such rare situations can work out an agreement with its customers that allows for partial shipment. In this way, we can still process large order, but can ship the requested products in two or more deliveries and still able to meet our customer's expectations.
USG ME ensures the availability of raw materials from various excellent sources along with alternate mechanisms readily available in order to maintain the material availability all the time to serve our customers.
We understand that when it comes to your work, you want the best possible results in the most efficient time possible. That is why we remain ambitious and disciplined in our pursuit of the highest standards of quality, efficiency and service. It's a never-ending commitment to learning, improving and striving to be the best at what we do. So customers like you can get the results they need, in the time they need it.
Some Companies that are hell-bent on reducing costs end up sacrificing quality for their own temporary performance showcase. They tend to do the bare minimums and haggle with the customer over petty matters. But USG ME ensures both optimum cost and optimum quality with no compromise whatsoever.
USG ME Warranty and Installation Supervision
Warranty: USG ME's following combinations of ceilings and walls system products, as installed in the building nominated overleaf, carry an extended warranty from the date of installation ("Warranty Period"). Our extended warranty is defined as the useful life of the ceiling system up to a maximum of 30 years. USG ME acoustical panel only or USG ME DONN® grid only, carry a 15 year warranty from date of installation.
This Warranty covers the owner (and subsequent owners) of the building nominated overleaf in which the products are installed for the Warranty Period. Product defects caused by faulty materials, manufacturing workmanship and failure to meet product specifications issued by USG ME in effect at the time of installation. The nominated ceiling panels shall withstand normal climatic conditions including high temperature and humidity without visible sagging, warping or shrinking, or delamination of finished surfaces, provided that the panels are installed in normal occupancy conditions for which they are intended and within current environmental conditions of the product.
Installation Supervision: USG ME supports the contractors with supervision on installation of its products as follows:
Control over observance of technology of installation;
Work in close contact with the experts of the organization that carries out the installation, to ensure the correct installation and assembly, perform work with proper quality
Providing necessary documents for reference
Convenience is one of the many reasons why consumers prefer to purchase goods and services from a one-stop-shop. Instead of having to go to multiple businesses, they can just go to one location for all of their needs.
The same convenience is present for USG ME that makes many different Ceilings, Walls, Metal, and Interior Finishes products. Customers may not think there is a difference between companies that outsource some of their manufacturing and those that do it all in-house, but there are distinct advantages.
Here are four reasons why a one-stop-shop is beneficial for your business:
Lower Costs: Manufacturing everything in-house saves the customer money because the company does not purchase the product at its retail price and mark it up further like a reseller. The savings will be even more pronounced when purchasing the product in larger quantities. Lower costs are a great benefit of choosing a vendor that does as much in-house as possible.
Better Communication: Just the slightest issue can affect and delay the whole project, so having everything in-house makes communication much better. This helps settle issues quickly and decisively, all while keeping you in the loop.
Quicker Turnaround: On a similar note, a true one-stop-shop produces a much quicker turnaround. There are no extra product shipments or scheduling conflicts. Receiving products late often cause huge headaches for customers and this in-house workflow stops inefficiency in its tracks.
Better Product Fit: The final reason to work with a one-stop-shop is that there is a better product fit. When a company manufactures each part of the product it has a better sense of how the whole thing fits together. This creates a more innovative and cohesive product that could not have been produced by many different companies throughout the process. For most customers getting a unique and stellar product is the most important goal and working with a one-stop-shop accomplishes this.
It is important to know our business unit technical and financial capacities and therefore we are capable of completing any work or supply once contracted to the Project.
USG ME has a sound portfolio of reference projects with all the required approvals from major engineering consultants to be a prestigious manufacturer/supplier for the main contractors.
Local Building Codes, Knowledge and Compliance
Building codes addresses many of a society's most important concerns, including public health and safety, and environmental protection. Building codes establish a building's quality, safety and energy performance for years to come, because initial design and construction decisions determine operational and maintenance costs for the life of the building. Building codes and design and construction decisions affect us every day. Some requirements such as fire safety codes and structural and seismic standards affect us in obvious ways. Others, such as lighting quality, acoustics and the air we breathe also have major effects on our health and productivity. We spend nearly 90 percent of our lives inside buildings.
Also, Saudi Standards, Metrology and Quality Organization (SASO), Saudi Civil Defense, Dubai Civil Defense (DCD), Qatar Civil Defense and other governmental authorities in the MENA and GCC regions are always improving the local building codes and construction standards to improve the building qualities and the constructing safety.
That's why USG ME's ME technical team possessing complete knowledge about the local building codes ensure to comply with the all the applicable building codes related to its products with no extra cost. We care to comply with the codes and norms because we innovate products inspired by you!
Join one of our training programs and find out more about selecting and installing our products. They include theoretical and hands-on training in the different applications, selection and installation of our products. Our trainers are certified USG ME engineers with years of experience, who work on-site with our customers, every day, all over the world.
The training is designed to increase your team's skills, reduce mistakes onsite and associated costs. Our training programs are held at USG ME premises or we can come to your office or job-site.