From our production facilities in Saudi Arabia to our plaster plant and gypsum mine in Oman, at USG
ME
, we're proud to be a part of the Middle East's growing infrastructure and look forward to expanding on our presence for years to come.

We work in compliance of the Saudi Vision 2030 and National Transformation Program 2020, our ME operation is certified by the in-Kingdom Total Value Add Program (IKTVA) Saudi Aramco which confirm our support to the local content and to the Saudi Vision 2030

We exist to contribute to improving the lives of our employees, our customers and our communities. In addition to creating business for suppliers, local procurement can stimulate Saudi and GCC economic activity and attract further investments, both through suppliers engaging other suppliers for inputs and through the multiplier effects of employees of local businesses spending some of their wages in their communities. Other benefits include improving the quality of life for local employees and business owners and operators.

Read on to discover information about our Capabilities & Capacities, Architectural Finishes & Products Integrity, Building Codes, Knowledge and Compliance, Technical Specifications and Product Integrity, Green Building & Leed Compliances, Middle East Operation Location and Logistics Advantages and case studies showing what can be achieved with our products.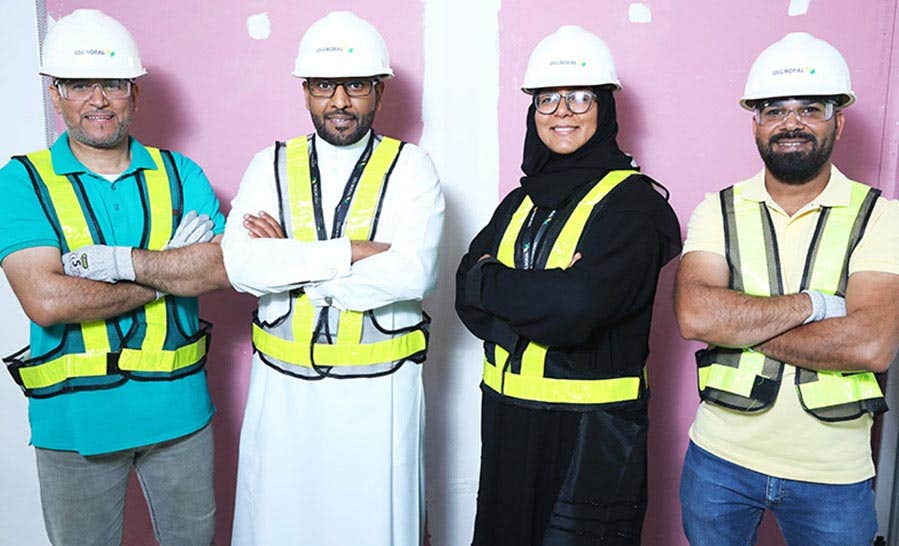 USG ME Capabilities & Capacities
With approximately 3,500 employees, USG ME is a leading manufacturer and supplier of mineral fiber acoustical ceiling systems, specialty ceiling systems, gypsum-based wall and ceilings, substrates, metal framing, metal ceiling ,joint compounds, high-performance panels and accessories throughout Middle East, Asia, and Australia.

Through an ever-growing portfolio of groundbreaking products backed by unparalleled service at USG ME, we empower our customers to build their business – much the same way great cities and communities are built. And we've done so through investing in purposeful innovation, expanding into different markets and constantly searching for ways to increase performance and productivity.
USG ME Architectural Finishes & Products Integrity
When it comes to Architectural Finishes, we have you covered with our products' Versatility, Wide Range of Styles and Finishes, Choice of Materials, Sustainability, Durability, Ease of Installation and more.

When it comes to building, it's more than just working with products that you can trust. It's working with people whom you can trust, too. That's why when you work with USG ME Middle East, you'll soon realize our word is as rock-solid as our products. Being open, honest, respectful and authentic in all our dealings isn't just good business. It's a cornerstone of how we do business.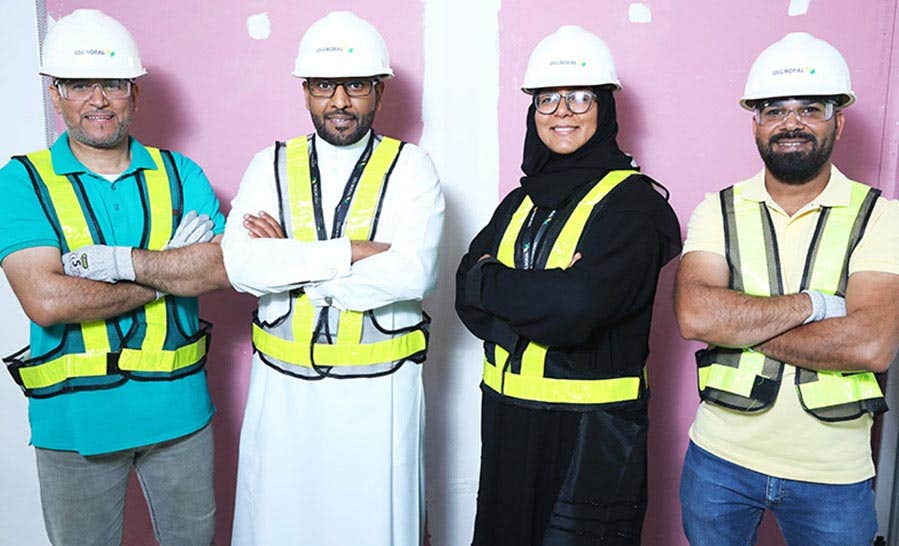 Local Building Codes, Knowledge and Compliance
Building codes addresses many of a society's most important concerns, including public health and safety, and environmental protection. Building codes establish a building's quality, safety and energy performance for years to come, because initial design and construction decisions determine operational and maintenance costs for the life of the building. Building codes and design and construction decisions affect us every day. Some requirements such as fire safety codes and structural and seismic standards affect us in obvious ways. Others, such as lighting quality, acoustics and the air we breathe also have major effects on our health and productivity. We spend nearly 90 percent of our lives inside buildings.

Also, Saudi Standards, Metrology and Quality Organization (SASO), Saudi Civil Defense, Dubai Civil Defense (DCD), Qatar Civil Defense and other governmental authorities in the MENA and GCC regions are always improving the local building codes and construction standards to improve the building qualities and the constructing safety.

That's why USG ME's ME technical team possessing complete knowledge about the local building codes ensure to comply with the all the applicable building codes related to its products with no extra cost. We care to comply with the codes and norms because we innovate products inspired by you!
Technical Specifications and Product Integrity
USG ME meets or exceeds the set of requirements that our products' technical specifications must meet as per the industry standards with available certifications.

To ensure product integrity, USG ME focus on quality fundamentals with distinct rigor and discipline. We ensure the design intent and process capability be established early in the product life cycle. Production teams manufacture the as-designed product in a repeatable, affordable way which translates into reducing the risk of market recalls, streamlining product approvals from external regulatory bodies, comply with industry standards, increasing brand credibility, Increasing customer satisfaction and loyalty, and optimizing costs.

USG ME ensures delivering excellent ceilings, walls, metal, and interior finishes products by performing rigorous product testing and certification beforehand by professional testing bodies who have masses of experience in order to go above and beyond expectations and to really stand out in the industry. Check our resources page to review our full product technical datasheet and product certifications.

If we are about to unveil a new product to the world, we keep in mind that the class of our products is a reflection of the experience we are providing to our customers.
Green Building & Leed Compliances
With the full force of the USG ME's ME core competencies in standards creation, verification, education and high-performance building data tracking, we are committed to speeding the evolution of green building codes far and wide.

Green building strategies are increasingly being introduced into traditional building codes, addressing the cross-cutting categories of site selection, water conservation, energy efficiency, renewables, indoor environmental quality, and resource conservation.

A strong and successful green building code has a vital role in helping create the best communities for today without compromising the needs of future generations.

LEED and codes are not mutually exclusive. As traditional building code evolves to include sustainability measures upward movement helps redefine leadership and what LEED can do to transform the market. These forces work together, fueling higher levels of building performance and sustainability.

We believe at USG ME that it falls under the responsibility of every decision maker to:
Recognize and reward green codes in LEED
Support a model code that has direct connections to LEED
Providing education and resources to help speed code adoption
Innovating through technology and data tracking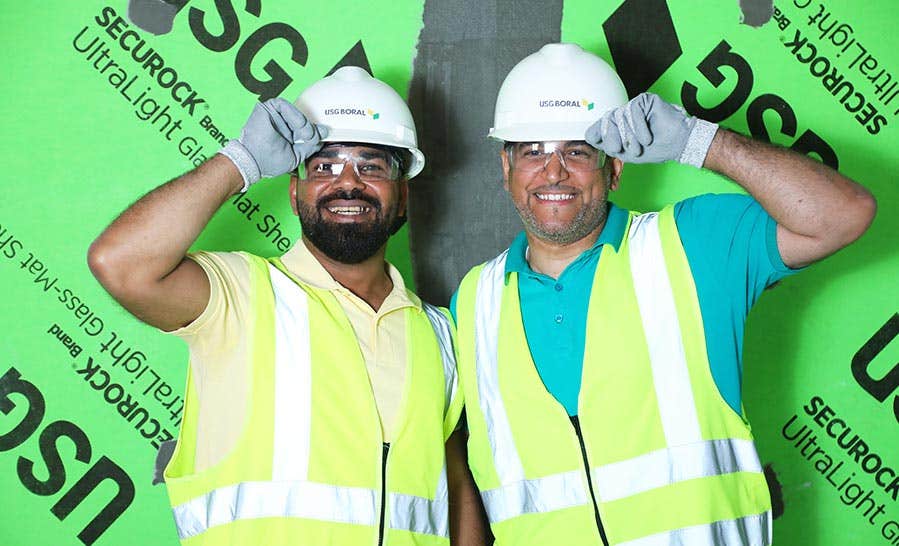 Middle East Operation Location and Logistics Advantages
Located in the heart of the Middle East region, connecting the East with the West; Our supply chain management effectively meets customer demands through the planning, control, and implementation of the effective movement and storage of finished goods to destination flawlessly. Needless to say that our location is a great advantage.

At USG ME, we work with our partners, stakeholders, and other businesses to share best practices and find new ways to improve logistics performance. It's about using the best resources available and engaging the right people to help support our customers and their business.
More Flexibility: If you source locally, local suppliers are typically more reactive than suppliers who are farther away. They are able to deliver products quicker, and it is much easier for a supplier to coordinate a shipment across the neighborhood than around the world.
Greater Control: The further away you are from elements of your supply chain, the less control you have over them. Face-to-face visits will allow you to address any concerns and ensure all products meet your standards.
Reduced Supply Chain Costs: If you are tightening your budget, you should consider tightening your supply chain as well. The amount of money companies spend on logistics every year is staggering.