Sales office in Turkey
USG Middle East - Turkey
P.O.BOX: Turkey Turkey - Simirna Endüstriyel Kimya San. ve Dış Tic. A.Ş. A.O.S.B, 10040. Sk. No:9, 35620 Atatürk Osb/Çiğli/İzmir
View all sales offices
Perforated Gypsum Board - R6
Brand
Skyrock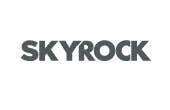 Available in Round Perforation R6,11.1% Borderless and Round Perforation R6,10% for a seamless look to improve the aesthetics of the ceiling. as per ASTM C423, and tested to achieve up to 0.85 NRC (Noise Reduction Coefficient).
The Skyrock Ecoblock R6 Ceiling board has round pattern perforations and recessed/tapered edges, making it a sound-absorbing perforated gypsum board. As a wall or ceiling liner, Skyrock Ecoblock R6 Ceiling board is advised. Also great for aesthetic reasons.
A carefully formulated core is used to create Skyrock Ecoblock Round Perforation R6, which is then covered in recycled face and back liner papers. The panels have long recessed edges for simple application when combined with EASYJOINTTM 60 Setting-Type Premium-Jointing Powder from USG Middle East and Acoustical Sealant.
Fire Propagation And Surface Flame Spread: Astm E84

High NRC